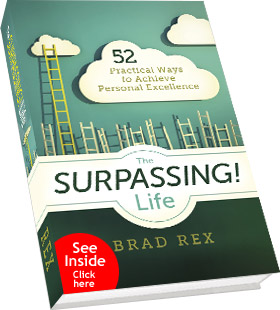 "This Book Will Propel You to Great."
Lee Cockerell, Former EVP, Walt Disney World Resort
Would You Like to Have Money, Health, Honor, Relationships, Knowledge, Leadership, and Success Beyond Measure?
SPECIAL OFFER!
Enter code YV7PUVNS at Checkout For a paperback Discount.
Book Description
The Surpassing! Life provides easy, time-proven concepts to simplify your life, increase your happiness, and surpass all expectations. With intriguing chapters like Submerged for 70 Days, Behind Closed Doors, and Humble Success, you'll learn useful secrets that will make you shine:
A $23 Cup of Coffee - add over $500,000 to your retirement account
Sleep Deprived - learn how to get a good night's rest
Tell Me Your Story - develop new, strong friendships
13 Years - gain hours of productive time in your day
This, Too, Shall Pass - become a realistic optimist and take on any challenge
Who Are You? What Do You Want? - create new focus and energy for your life
Plus 46 more great chapters.
Read fascinating, back-stage stories about Disney's Epcot theme park and go under the sea on a nuclear submarine. With over 150 inspiring quotes and 200 action points, The Surpassing! Life will encourage and challenge you to take your life and leadership to the next level.
Each section takes only minutes to read, but can benefit you for a lifetime. Find out what other happy, successful people already know, and start living the Surpassing! life today.
---
Editorial Reviews and Endorsements

"Brad's book, The Surpassing! Life, highlights many of his Disney experiences and stories as Epcot's leader. The Surpassing! Life... does just that. The difference between having a good life and a great life is gigantic. This book will propel you to great."
Lee Cockerell Executive Vice President (Retired & Inspired) and Author, Creating Magic Walt Disney World Resort


"Brad Rex is one of the best business leaders I know, and yet he is also extraordinarily successful in his personal life. I am delighted that he is now sharing his "secrets" with the rest of the world in this entertaining, yet very practical book. Anyone who applies Brad's 52 lessons is sure to wind up in the top 1% of all people in terms of their personal success and happiness."
Kim Lopdrup Chief Executive Officer, Red Lobster Seafood Company
More
"I lead a series of Christian sports camps that host over 10,000 youth every summer. I have known Brad Rex and his family for ten years, and I am thrilled that he has shared his amazing experiences and knowledge in The Surpassing! Life.
Every parent should give this book to their kids
so they can excel in life and leadership, and the
parents should read it, too
.
This is a smart, happy way to live.
"
Joe White Kanakuk Kamps, President and Founder, Kids Across America
---
Product Details
Pages: 212
Library of Congress Control Number: 2012908191
ISBN-Print: 978-0-9855519-0-2
ISBN-eBook: 978-0-9855519-1-9

Product Dimensions: 9" x 6" x 0.75"
Publication Date: May 15, 2012
Printed in the United States of America

Available on:
---
About the Author
Brad Rex has led a Surpassing! life. He was a nuclear submarine officer, leader of Disney's Epcot theme park for five years, Executive Vice President/Chief Customer Officer for Hilton Grand Vacations, and a distinguished graduate of the United States Naval Academy and Harvard Business School. Brad is a noted public speaker, husband for 30 years, and father of three, with 52 valuable lessons for Surpassing! living.
Fun Facts about Brad
Brad is originally from Gladwyne, Pennsylvania - outside Philadelphia.
He attended the United States Naval Academy, where he was a Trident Scholar and graduated fifth in his class.
More
He was a nuclear submarine officer onboard a ballistic missile submarine. He did five patrols of 70 days each, so he has spent a year of his life underwater.
Brad then attended Harvard Business School, graduating in the top 10 percent of his class.
He joined the British Petroleum Company, working at their offices in Cleveland and London. He had five different jobs there in six years, including BP Finance, leading an oil trading group during the first Gulf War, being on the CEO's staff during the turnaround of BP in the early 1990's, and selling resin for plastic bottles for BP Chemicals.
Brad left BP in 1994, joining the Walt Disney Company in Orlando. He led the financial and strategic planning for Disney Parks and Resorts, as well as new business development, for six years. His team did the negotiations and agreement for Hong Kong Disneyland.
He then switched to Operations in 2000, and completed 400 hours of in-costume training in fifty different hourly roles and locations across Walt Disney World. These roles varied from Custodial and Housekeeping to Quick Service Restaurants, Merchandise, Wastewater Treatment Plant, Entertainment, Attractions and Vacation Planner.
Brad led the labor management team for Walt Disney World's 33,000 hourly Cast Members and managed Disney's College and International Housing for 5,000 students.
He was named to lead Epcot theme park in August, 2001, and his first full week at Epcot started on September 10th, the day before 9/11.
Brad was at Epcot for over five years, during a period of rapid growth, including the addition of four major attractions, and a return to record attendance, profitability, Guest service and Cast Member engagement.
In 2007, Brad joined Hilton Grand Vacations, the timeshare division of Hilton Hotels, as their Executive Vice President and Chief Customer Officer, where he led their 25 properties and the HGV Club exchange operation. He achieved an 85% increase in operating income with record owner satisfaction and team member retention, and opened two new properties.
In January 2009, Brad left Hilton and is currently Chief Executive Officer of TBRG, LLC, a management consulting company focused on creating outstanding guest service, high operational efficiency and successful growth strategies.
Brad is a public speaker, with engagements at various companies, Disney leadership conferences, Florida Hospital, Lifework Leadership, Simpson University, and the New York City Leadership Center. Topics include leadership (Top 1% Leadership: 15 Practical Ways to Reach the Peak); customer service (Building a World Class Customer Service Organization); diversity (Creating A Home For Diversity); humility (Humble Success); and, generosity (Radical, Rational Generosity).
He has been referenced in several books, including Lee Cockerell's

Creating Magic

, Michael Lindsay's

Faith in the Halls of Power

, and an endorsement of Chad Emerson's

Project Future: The Inside Story Behind the Creation of Disney World

.
Brad is the author of

The Surpassing! Life: 52 Practical Ways to Achieve Personal Excellence

.
---
Table of Contents
| | |
| --- | --- |
| Why Live a Surpassing Life? | 1 |
| How to Use This Book? | 3 |
| Chapter 1: Money Beyond Measure? | 5 |
| 1. A $23 Cup of Coffee | 6 |
| 2. Satisfying Returns | 9 |
| 3. Rich Rewards | 12 |
| 4. Sunny Skies | 18 |
| 5. The 100 Item Club | 21 |
| Chapter 2: Health Beyond Measure | 25 |
| 6. The Magic Food | 27 |
| 7. Submerged For 70 Days | 31 |
| 8. Sleep Deprived | 34 |
| 9. Zipper Stripes | 38 |
| 10. My One Pleasure in Life | 41 |
| Chapter 3: Honor Beyond Measure | 44 |
| 11. The New York Times Test | 46 |
| 12. Blessing or Curse | 48 |
| 13. Volunteer | 52 |
| 14. Better Than Gold and Silver | 55 |
| 15. Twin Sons From Different Mothers | 59 |
| Chapter 4: Relationships Beyond Measure | 62 |
| 16. Tell Me Your Story | 63 |
| 17. Playing Favorites | 65 |
| 18. Admiral Rickover | 70 |
| 19. Can You Hear Me Now? | 74 |
| 20. Love Is | 79 |
| 21. Stinky Feet | 82 |
| 22. Help, I Need Somebody | 86 |
| Chapter 5: Knowledge Beyond Measure | 89 |
| 23. 130 Million Books | 90 |
| 24. Ask Questions | 95 |
| 25. To Thine Own Self Be True | 99 |
| 26. Thirteen Years | 102 |
Chapter 6: Leadership Beyond Measure
105
27. Eagle Eyes
107
28. Sick of Your Own Voice
110
29. Uniform Races
114
30. Ten Cents and a Handkerchief
119
31. Decisions, Decisions
123
32. Hitting the Beach
128
33. This, Too, Shall Pass
134
34. Windows and Mirrors
138
35. Bad Mood
141
36. The Yes Man
144
37. 1,000 Emails
147
38. The Best Question Ever
150
39. Who Cares?
152
40. A Cup of Hot Chocolate
155
41. Santa Claus and The Elf
159
42. Follow the Leader
162
43. Harsh Critics
164
44. Behind Closed Doors
166
45. Be Nice to Strangers
169
Chapter 7: Success Beyond Measure
171
46. Ten Million Hits
172
47. The Best Leadership Book
175
48. Shhhh
179
49. Put Family First
182
50. Thanks!
186
51. Humble Success
190
52. Who Are You? What Do You Want?
194
Conclusion
198
---
CERTAIN CONTENT THAT APPEARS ON THIS SITE COMES FROM AMAZON SERVICES LLC. THIS CONTENT IS PROVIDED 'AS IS' AND IS SUBJECT TO CHANGE OR REMOVAL AT ANY TIME.
---
Excerpt